Life transitions are inevitable. Some are by choice, some are not. Whether it's a career transition, becoming an empty nester, or a complete life pivot, you can successfully walk through the hallway, the messy middle, and rediscover and transform yourself so you can continue to enjoy a life filled with purpose and meaning.
We are pleased to share this recap and recording from our January 2023 Women's Forum program Managing Midlife: Purpose, Rediscovery & What Comes Next. Many thanks to our esteemed panelists Angie Sebastian, Ivy Slater, and Mary Wallace Jaensch for sharing their unique and personal journeys of transition and transformation.
It was inspiring to hear their stories and how they emerged successfully, whole, and grateful from their transitions.  All of them agreed the hallway between one door closing and another opening was filled with feelings of discomfort, fear, and uncertainty but, it's where real growth and learning happened.
Key Takeaways
A transition is just that, a transition and it takes time. It's not a moment or a transaction.  Seek support, show yourself patience, and believe you will figure it out.
If you're able to create your own exit strategy/succession plan, start now if your "what's next" is on the horizon. Begin with your why, values, what you want to do in the future, AND how you want to feel.
Be honest with yourself. If your career no longer excites you, if it no longer fuels your joy or aligns with your purpose or values, step back and reevaluate.
Lean into the future vision you have of yourself.  The messy middle is messy BUT it is where brilliance, creativity, and growth come from.
Have a financial plan in place! While we get clear on our purpose and what we want our future lives to look like, we also must determine if we have the financial resources to make a transition, when we want to make it and if we have the finances to support our life goals.
Actions To Take Today
Here are two recommended actions that can help you be more intentional to further explore your identity and successfully navigate a transition.
Ask some trusted people in your life, (e.g. friends, family, colleagues) to share what attributes of yours are top of mind when they think of you. How do they experience you?  Are there gaps in their responses and how you wish to be perceived? If so, are there shifts or changes you want to start making to be more aware/intentional to project your true self?
Create a list of your skills and the things you're great at doing – and think through how you can apply them in new/different ways during and beyond your transition. Carve out the time to do this, today.  Don't allow yourself to get caught up in the busyness of life.  Make yourself and your future a priority!
Resources
Our Speakers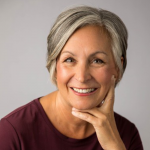 ANGELA (Angie) SEBASTIAN
Angie is the President of Sebastian Strategies, a business advisory and leadership coaching firm she founded after retiring in 2022 as CEO of Levenfeld Pearlstein, LLC, a national law firm based in Chicago.  She joined LP in its founding year and served as Director of Finance, Executive Director, and Chief Executive Officer over a period of more than 20 years. She is credited with the creation of a renowned client experience business strategy called the LP Way™.  When she retired from her position as CEO, Levenfeld Pearlstein honored her service by initiating a scholarship fund at Governors State University, where she has dedicated many years as a public servant and currently serves as Chair of the Board of Trustees, a position appointed by the Governor of the State of Illinois.
Angie orchestrated her own 5-year succession plan from the firm she helped build and now advises and coaches leaders who are contemplating, approaching, or are in the succession dance.  Angie's mantra and personal philosophy is to Lead Where You Are.  She is doing just that in this next phase of her career and life.
She received leadership coaching training at the Institute for Transformational Leadership at Georgetown University, is an Associate Certified Coach by the International Coaching Federation, holds an MBA and is a Certified Public Accountant in Illinois.
To learn more:
https://www.linkedin.com/in/angelasebastian/
https://sebastianstrategies.com/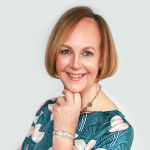 MARY WALLACE JAENSCH
Mary Wallace Jaensch, Founder of Last Big Gig LLC is a Possibility Whisperer for her clients – helping them successfully and quickly discover new career and life opportunities to grow in purpose and fulfillment.
Mary has a proven track record of creating new growth possibilities.  After earning her MBA from the Yale Management School, she joined Procter & Gamble, managing well-known brands such as NyQuil and Oil of Olay.  Subsequently, she co-founded SPARK Solutions for Growth, a marketing strategy consultancy, that helped drive growth for Global Consumer brands such as J&J, Bayer, Dannon, and Shiseido for 20+ years. In 2008, she co-founded a Venture-backed start-up Semprae Laboratories, that marketed Zestra, a women's sexual health product, which was sold to a pharmaceutical company in 2013.
Since then, Mary has been on a mission to open the doors to unlimited professional and life possibilities for women 40+.  She launched Last Big Gig LLC to offer tools, insight, support, and community to women who want to design and successfully launch their next, fulfilling professional and life gigs.
To learn more:
https://www.linkedin.com/in/marywallacejaensch/
https://www.marywallacejaensch.com/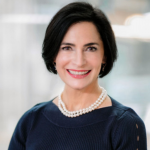 IVY SLATER
Ivy is the CEO of Slater Success, a boutique training, consulting and coaching company focused on growth strategies and leadership development for high-level, service-based businesses. Ivy is a professionally certified business coach, speaker, internationally bestselling author, and podcast host. Prior to Slater Success, she spent 20 years as owner and operator of Slater Graphics, a printing company in NYC, scaling it to 7 figures.
She is the author of two books, "Conquering Your Fear of Money, A Woman's Guide to Business Success" and "From the Barre to the Boardroom: Choreographing Business Success Through Authentic Relationships." Her third book, which focuses on leadership through challenging times, is due out in 2023. She hosts a weekly podcast, Her Success Story, interviewing dynamic leaders, as well as a monthly LinkedIn Live show bringing on guests to share insight and advice on leadership, team communication, diversity and inclusion, legal, and finance.
She speaks nationwide on the topics of leadership, sustainable growth, and the value of relationships. In 2020, she was a recipient of a Power Women of New York and of Long Island award, presented by Schneps Media.
To learn more:
https://www.linkedin.com/in/ivyslater/
iver@slatersuccesscoaching.com