Learn five fundamentals to remember before a difficult conversation and five grounding techniques for before and/or after a difficult conversation.
We are pleased to share a recap from our March 2021 Women's Forum program: Having Difficult Conversations. Thank you to everyone who registered and to Kimberly Cook, Esq. and Dr. Ammara Khalid for sharing their insight to help us show up as our courageous selves and honor our core principles and higher self during these discussions. 
---
Below are highlights and key takeaways from their remarks including Kimberly's Five Fundamentals and Ammara's Five Grounding Techniques. This recap also details more information and ways to connect with them to learn more about their expertise. 
Five Fundamentals 
t
o Remember Before A Difficult Conversation
Safety First

. Never engage in a difficult conversation when your safety is compromised. Avoid engaging with anyone who endangers your physical, 

mental,

 or emotional well-being. Having difficult conversations are important and necessary but not at the expense of your safety. Seek the professional help of a lawyer, mediator, 

therapist,

 or other trained intermediary if necessary. 

 

Establish and Maintain Realistic Boundaries

. Whether setting time limits, a specific agenda or restrictions on the use of profane language, be true to yourself in setting and maintaining your personal boundaries as they will serve as a guide

 

throughout the conversation. And, be intentional. Set boundaries that you personally intend to adhere to and don't simply impose your boundaries on others. 

 

Preparation Is Key. Take the time to prepare for the conversation. Pull together any necessary information, organize your thoughts, write down key points to remember or questions to ask. Set the time for the conversation and practice breathing or grounding techniques well in advance. The more prepared you are the more confident you will be during the conversation.

 

Find and Use Support. There is no rule that says you have to go it alone. Support comes in many forms and more than one type can, and often should be used depending on the type of conversation. Whether exercise, spiritual guidance, anxiety tools (e.g. Fidget Spinners), or working with an expert, find what works for you and use it before, during, or after the conversation.

 

Avoidance Is Not The Answer.

 Having difficult conversations is a part of life. Avoidance only makes the matter worse whether mentally, physically, 

emotionally,

 or financially. Approaching a difficult conversation may not be easy for you but avoiding it entirely may be detrimental to you.

 
Five Grounding Techniques for Before
 (and/or)
After a Difficult Conversation
These five actions will help you be more present and allow you to own your voice and power. 
Breathe!

 Focus on your breathing. A few deep inhales and exhales go a long way and remind your body that you are safe.

 

Progressive Muscle Relaxation (PMR).

 Starting from your head, relax the muscles in your body one by one, all the way down to your toes. Or, if you prefer, start with your feet and work all the way up to your head. The goal is to release any tension or tightness your body is holding on to.

 

Relax Further. Clench and unclench your fists a few times, and yawn widely a few times – this relaxes your hands and face, places where we often hold tension when approaching confrontation.

 

Take a Walk. Especially after a difficult conversation, there can be temptation to ruminate and replay every little detail. Focus instead on doing an activity that engages your body and keeps you out of your head (even for 5 minutes).

 

Stay Hydrated

. Before, during, and after a difficult conversation, our heart rates can go up and we may experience dry mouth. Taking a few sips of water can help you refocus on your goals.

 
Finally, remember to pause and celebrate your courage for having the difficult conversation – regardless of the outcome. Not to strive for perfection. The more we do this, the easier it gets, the more our confidence grows and the better we get at mastering difficult conversations. 
About Our Speakers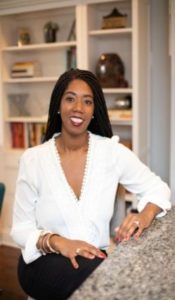 Kimberly A. Cook, Esq., Mediator at Dovetail Conflict Resolution
Kimberly A. Cook is the embodiment of "grace under pressure" as demonstrated by her distinguished legal career as an esteemed litigator known for guiding her clients through difficult and complex family law matters including prenuptial agreements,  divorce, parenting matters (decision making and parenting time), support (maintenance and child support), and college contribution.
As a mediator, she approaches every case with consideration of the unique circumstances which give rise to disputes and provides guidance to help individuals navigate through an issue while giving them the resolution tools to move forward.
Kimberly spends her free time sharing her legal experience with the community as a speaker, volunteer, and mentor.
Dr. Ammara Khalid, PsyD, Licensed Clinical Psychologist at Core-Chicago
Dr. Khalid's area of expertise is working with children and adults who struggle with depression, anxiety, eating, relationships and divorce, alcohol/drug addictions, trauma, ADD/ADHD, issues related to sexuality and gender, and immigration and acculturation issues. She has extensive experience conducting psychological evaluations, as well as case conceptualization and treatment. Dr. Khalid practices cross-cultural psychology from a systemic orientation and draws heavily from IFS (Internal Family Systems) in case conceptualization. Dr. Khalid has traveled extensively internationally and is well versed in both English and Urdu/Hindi. She enjoys working with clients from all walks of life and takes a collaborative approach in helping clients discover answers to their problems.
In addition to her work at CORE, Dr. Khalid has served as an Adjunct Professor at The Chicago School of Professional Psychology, Adler School of Professional Psychology, and at Illinois School of Professional Psychology where she has taught a wide variety of subject matter including adult development and aging, therapy techniques with family systems, and topics related to diversity to both graduate and undergraduate students.