Let's invest the time in ensuring we show up as our courageous and authentic selves so we can make the most of our one precious, post-pandemic life!
We are pleased to share this recap and recording from our May 2021 Women's Forum program: Emerging From the Pandemic – How Do You Want To Show Up?  We are so grateful to Lisa Guillot for sharing her insights into the steps to take so we can emerge in an authentic way from the pandemic to propel us in the direction we want to go.
---
Your Clear Concept
Lisa shared the first step in creating your Clear Vision: Your Clear Concept.
As we move into a new "new" normal you, as the intuitive leader of your life, get to choose who you want to be. Start from a clear state of mind and imagine yourself flourishing, building deep relationships with powerful support. You are being intentional in all areas of your life, leadership, and livelihood.
Now ask yourself:
What habits and rituals will serve me in the next 3-4 months?
What's my high-level intention for the next 3-4 months?
If there were no limits, what would I do?
Why is this important?
Fill in the sentence stem:
"I am here to __________ and this is important because ________."
"The first, dazzling stage of faith is called bright faith. It is likened to sitting in a darkened room with the door closed, shut-in and oppressed. Then for one reason or another, that door swings open. We may not see what is outside, but we know there is an outside. That means there is light, there is possibility, it's a far bigger world than what we might have gotten accustomed to." 

Sharon Salzberg, Buddhist teacher, author
---
About Our Speaker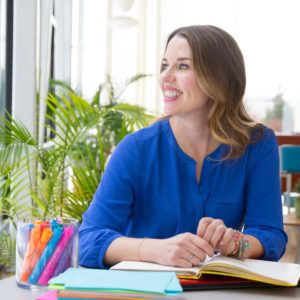 Lisa Guillot is a professionally certified (PCC) transformational leadership coach through the International Coaching Federation. Dubbed a branding expert by the Chicago Tribune, Lisa brings heart, soul, and action to every coaching conversation. She works with motivated entrepreneurs and executives through deep one-on-one coaching and group coaching workshops. In addition to her coaching practice, Be Bright Lisa, she is the founder of Step Brightly, a boutique brand consultancy, and co-founder of Forth Chicago a creative women's entrepreneurial community.
Lisa's branding expertise includes working with Crate & Barrel, Paper Source, Pottery Barn Kids, The Gap, and Sephora which has given her the opportunity to share brand strategy and creative expertise ranging from lifestyle branding to tech-related industries.
Lisa received degrees from the University of San Francisco and the Academy of Art University. She is a trained Accomplishment Life and Leadership Coach and is affiliated with the International Coaching Federation.
Website –  bebrightlisa.com
MORE FROM LISA
You can build out your clear vision and concept by joining her Be Bright Virtual Retreat.
Meet on Zoom for an hour on Saturday morning June 12, and again on Monday evening June 14 for an hour.
In-between you'll create a retreat experience for yourself with a digital journal, meditations, and personal reflection.
Cost: $47 until June 1st, $97 after
---
WEDNESDAY, JUNE 16, 2021
As we emerge from the pandemic, our resilience – our ability to bounce back from adversity and grow from challenges – will continue to be tested.
While women have demonstrated tremendous resilience over the past year, are you as financially resilient as you want to be?
Are you confident in the systems and strategies you have in place to withstand and bounce back from unexpected life events that could potentially impact your long-term financial success and peace of mind?
CAP STRAT Women's Forum is pleased to present Creating Financial Resilience. Join us to learn how to identify financial vulnerabilities, cultivate a positive money mentality and implement practices and systems today to ensure you can financially endure and thrive through life's sudden surprises so you can enjoy true financial freedom.
Be well and here's to our courageous selves! 
Barbara and Nancy 
---
Please let us know if you would like to have a conversation with us. Email the CAP STRAT Women's Forum with any questions at womensforum@capstratig.com! Or call us at 630.320.5100.