Thanks to everyone who joined us to toast the holiday season at our 5th annual Holiday Soirée!  We are grateful that you set aside time to come to our virtual community to make new and strengthen existing connections, learn how to make healthy holiday snacks and sips (recipes included here in the newsletter), and share what we learned about ourselves and one another this year and what we are hopeful for in the year ahead.    
Surviving the Season
Our friend Monique Costello, Founder of Happy Eats Healthy shared two of her favorite recipes to help us thrive through the next few weeks.  She also reminded us that caring for ourselves is essential. 
Two
 key take
–
ways
:
Be 

kind to yourself, 

mindful of and 

grateful for not just what you have, but who you are and what you've accomplished. 

Selfcare gives you the permission and 

freedom to explore and expand, to make mistakes, and to forgive (yourself!)

The care and support you give yourself can be 

as important as the support you receive from others. 

 
Listening to 

your 

b

ody is one of the most valuable self-care strategies we can learn

.

 

Our body 

cues us 

in the form of symptom

s

 and s

hifting your mindset to one of 

appreciation 

for those symptoms, instead of dreading them, helps 

us 

focus on what matters and prioritize our needs.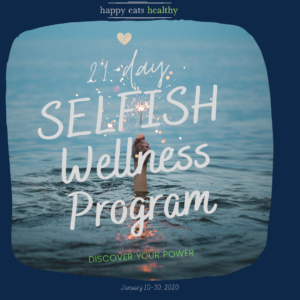 Starting on January 10th through the 30th Monique will be leading a virtual 21-day Selfish Wellness Program.  We have both participated in Monique's past programs and experienced such positive physical and mental outcomes: Our immune systems were stronger, digestive system calmer, skin clearer, we slept better (!) and felt a greater sense of inner calm and confidence in our ability to challenge ourselves. The program also includes guided meditations, simple soothing stretch workouts, a recipe book full of delicious recipes, a grocery list, ideas for eating out, a private Facebook group for weekly interactive live check-ins, and daily support.  One of the greatest benefits comes from the power of the community participating in the program alongside you. 
There will be a free pre-program the week of January 3-9th, filled with strategies to get you (and your housemates) prepared for success! 
Your Courageous Self! – Our Theme for 2021
We are excited for what's ahead and will continue to create a variety of programs with inspiring speakers and thought-provoking content.  We will also focus on networking in smaller groups and offering both morning and evening programs – including a monthly Coffee (8 am CT) or Cocktails (5 pm CT) and Conversations.
We are passionate about and committed to delivering value, ensuring you have a memorable experience and supporting your success, personally, professionally, and financially. 
January 20th – Women's Forum First Event in 2021! 

Details to follow shortly. 
Enjoy the CAP STRAT Women's Forum Playlist on Spotify.
Women's Forum Communications
Keep an eye out for our 

monthly newsletters with recaps and videos from our events, details about upcoming events among other content

.  

 

Our newsletter will be issued by 

womensforum@capstratig.com

 and we recommend that you 

add it to your contact list so it does not get delivered to an unintended email folder

.

 

And, t

he 

Women's Forum website

 

is 

where you can learn about recent programs, register for a future program, or watch one of the videos from a program or a featured topic, among other resources you'll discover.

 
CAP STRAT Communications
We also share a periodic newsletter with videos our firm produces that feature financial education, and current investment and market observations 

to

support women in owning their financial power. You will find these videos to be timely, brief, and 

the 

content easy to consume.  (Feel free to browse past videos on our YouTube Channel.)

 
They are issued from 

ResearchTeam@capstratig.com

 and you will also receive a link to manage your subscription.

 
CAP STRAT is committed to supporting your financial success and peace of mind. We encourage you to be engaged with your finances – not an expert, but aware, whether you are working with an advisor or managing the process to grow and protect your wealth on your own. Ask questions and seek clarity because no question is silly or stupid. Rather, you are merely holding others and yourself accountable to make sure you are on an optimal path to secure your financial future.  
Year-end Tips
This brief video reminds us of some important Year-end Financial Tips.  If we can help in any way, please reach out to us at bbest@capstratig.com or nrizzuto@capstratig.com.  
A Toast to You!
Finally, we close with a tradition for the Women's Forum – a toast, to all of you, to all of us.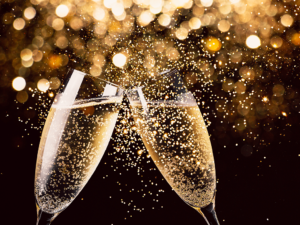 This has been such a challenging year for so many of us! And as the year comes to a close, we want to celebrate each one of you. We are in awe of the resilience, spirit, and leadership demonstrated by so many women. Thank you for stepping up to support others, for maintaining and strengthening this community, and persevering personally and professionally. Always, remember to honor and care for yourself – which is not selfish but gives you the capacity to care for others and to make the most of this one precious life. Here's to all of you, to all of us!  
Our very best wishes for a healthy and joyous Holiday Season and your most courageous self in 2021! 
Barbara and Nancy 
CAP STRAT Women's Forum