2021 is your year to grow and rise so that you can lead yourself, your teams and your families to not merely survive but thrive. This program is designed to help you adopt strategies, habits, and a mindset that will help you to thrive.  
We are pleased to share the recap from our first 2021 Women's Forum program. Thank you to Melinda Dransfield for sharing her expertise and energy so that we can show up as our best selves this year and beyond!
---
Watch the replay of our 60-minute workshop incorporating the latest in scientific research from the fields of positive psychology, behavioral science, and yogic sciences.
This recap includes:
A PDF of Melinda's key takeaways including three principles, strategies, and habits to help you THRIVE.
2. The Grow, Rise & Thrive handout that was referenced during the program with key questions to ask yourself.
Download The Grow, Rise & Thrive Worksheet
We hope you enjoy all of this!
What's Next?
We are excited to be refocusing our Women's Forum events to be a catalyst for women to build relationships with one another, to listen, learn, have fun, and be our courageous selves. At every Connections event, we will create time for you, in small groups, to make an ask…we all have them!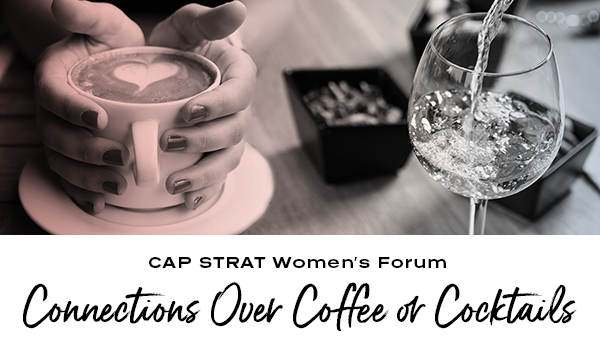 What is your ask?
A business development referral? Brainstorming through a challenge? Seeking a new personal or professional resource? Looking for a nugget of inspiration? Join us to fuel the start of your day or wind down the end of it with other dynamic women who are looking to maintain community and benefit from each other's talents and insights. And, while we love the ask, we also encourage you to make an offer if you are so inclined. Everyone has something that can benefit others in the community – so don't be shy! Pick a date and join us at this link.
It is that simple. Come as you are and leave with a little more wisdom, confidence, and excitement about an opportunity (or two) you created by opening new doors for yourself and others.
---
Please let us know if you would like to have a conversation with us. Email the CAP STRAT Women's Forum with any questions at womensforum@capstratig.com! Or call us at 630.320.5100.