Helpful strategies to leverage our strengths and trust our intuition so that we can communicate confidently, own our power and have successful and brave conversations at home, on the playground, in the Board room or wherever we go. We are delighted to share the recap from CAP STRAT Women's Forum October 2019 Mother-Daughter event.

Many thanks to our powerful guest speaker, Stephanie Moritz for sharing her story while teaching helpful strategies to leverage our strengths and trust our intuition. She joined us in the CAP STRAT studio before the event to share her stories.
We're also grateful for Stephanie Szewczyk and Kristen Hutchinson of STRONG self(ie) (I'm Enough), for offering their inspiration, creativity, and resources. Everyone enjoyed creating their Brave and Beautiful self(ie) bins, reinforcing a positive mindset and inner voice to help us live our superpowers.  If you didn't have a chance to shop their pop-up shop while at the event, you can also shop online at STRONG self(ie)
And, thanks to our attendees, whose event fees totaled more than $1,000 donated to Alive Center In Naperville. Another example of what a room full of empowered women and girls can do! 
KEY TAKEAWAYS
Start with your body. Feel more.
Each day, we can be faced with what feels like tense moments, hard conversations and difficult asks. Stephanie Moritz shared a few ways in which we can reframe these situations into opportunities. Start your day with positive affirmations to help you confidently step into your power, become more curious, and visualize a positive outcome to change how you feel and help you navigate through tough conversations without fear and with confidence.
Check In With You…
By being aware of what is happening in your body and creating a common language, we can begin to identify ways to speak our mind when it matters most. One tool Stephanie shared is called Self-Location and Approval. We often don't think about the outcome we desire and move straight into action. Instead, first, ask yourself what outcome you'd like and ask more curious questions to discover a hidden desire. A great way to do this is to ask, "What do I feel?" "What do I want?" Consider keeping a journal to practice this.
The Power of "I am…"
Self-Location and Approval also apply when you're trying to learn what are your specific"superpowers." Asking "what you love about yourself" and "what are you uniquely good at?" can help you identify and better leverage your strengths. Use this as an opportunity to write these strengths down and allow positive statements to flow. A few examples might be, "I am a woman who is brilliant" or I am the girl who is inspirational."
Communicating with Others
While it is important to speak your truth, you should always commit to listening to and acknowledging someone else's perspective. There is a key difference in listening to respond and listening to understand. Listening to understand often requires you to ask questions about their response so you can better understand their perspective. When you incorporate playfulness and curiosity into this, it makes these brave conversations so much easier! And, the outcome can more positive this way. Stephanie calls this locating our self and the other person,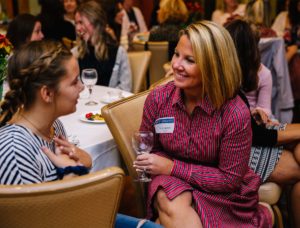 Examples of questions you can ask:
Tell me more…
Tell me why you feel that way?
Why did you ask me that question?
It seems you think or feel _________. Is that True?
When you're asked a tough question, consider responding with a question in return, especially if you need more clarification and context. Don't assume you understand and seek clarity. This also will buy you a little more time to respond so that you don't move faster than you feel. For example, in tough business conversations, you may consider using "How did we get misaligned?" Or "How can we rebuild trust?" Remember, complaints are more of a reflection of what's going on with them. Seek clarity and take ownership -your goal isn't to win it is to have a positive resolution.
Stop Apologizing!  
Don't downplay what you've achieved because it makes others feel uncomfortable. We are not only discrediting ourselves, but we're also teaching our daughter and other young women in our lives to do the same.  Celebrate victories!  Consider keeping a victory log and journal to remember how victory feels. Use these thoughts to support you during difficult moments. Be sure to keep your Brave and Beautiful Bin close, that can combine a collection of these victories you've won, kudos you've received, statements of affirmation, and great memories – and add to it so these thoughts and powerful moments can grow with you!
Lastly, before you make a big ask or face a moment that may create anxiety or self-doubt,
VISUALIZE YOURSELF GETTING EXACTLY WHAT YOU WANT/NEED.
And repeat affirming self-statements, because we become what we believe. Examples: "I am a woman who has the talent to start a successful business." "I am a woman who can lead a group/division within my company." "I am a girl who can get into the college of my choice."
And moms, remember to continue having those brave and beautiful conversations with your daughters so that they become empowered confident adults.
Our best,
The CAP STRAT Women's Forum
If you haven't already started following us, don't forget to join us on the CAP STRAT Women's Forum Facebook page! Enjoy these photos by Julie Dietz.