We will explore how women gain influence and make our voices heard to create the changes we desire at work and in all of our communities. First, women had greater influence at home and at a local level in our neighborhoods. As we have elevated our leadership and impact as business professionals, our voices and influence have also strengthened in corporate and political arenas. While we acknowledge our progress and celebrate strides, we know that this journey to create greater equality and influence in our communities must continue.
Join us and our esteemed panel. We will discuss different aspects of creating more positive internal and external narratives that serve us. See how we gain influence and make our voices heard to create the changes we desire at home, work, and in our local and national communities.
---
Strides and Strategies to Make Our Voices CountWednesday, October 14th at 8 am CT
5-minute introduction
40-panel discussion
15-minute Q&A
---
About Our Panel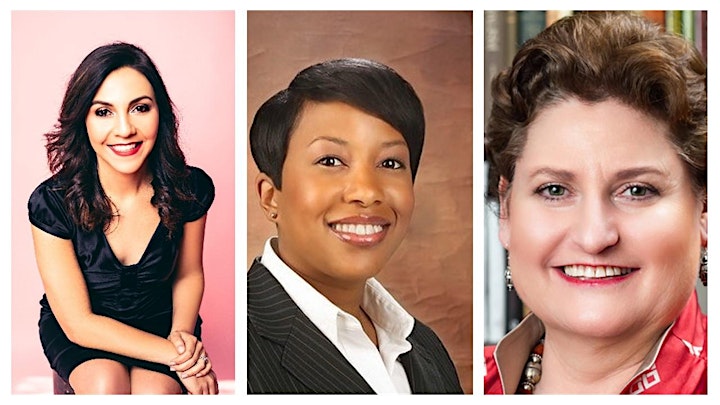 Tania Haigh, CEO & Founder, Advocate, Entrepreneur
Tania is a true women's empowerment leader, and an innovator and founder of many initiatives. She leads Magnolia Insights, a marketing services company that services the food & beverage industry. Tania is the founder of TEDxOakParkWomen, and has been a presenter and panelist at events that include: Marketing to Women, Marketing to Moms, Naperville Lean In Circle, Women in Wireless Chicago, and Mujeres de Hace.
Today her advocacy work serves parents and children through her role as Co-Founder/President of the non-profit, Parents Against Child Sex Abuse (P.A.X.A.).
In the span of her 20-year career, both for business and advocacy contributions, Tania has been featured in local and national written, broadcast and online media, including Advertising Age, Chicago Tribune, Chicago Sun-Times, Chief Marketer, NBC 5 Chicago, Wall Street Journal, Fox Channel 32 and WGN Radio.
Alexcia Cox, Attorney, Justice Seeker, Leader, Women's Advocate
Alexcia is Deputy Chief Assistant State Attorney in the Office of the State Attorney for Florida's 15th Judicial Circuit.
A native of Palm Beach County, Alexcia has been an advocate for women in the community for over 15 years starting with her career as a domestic violence prosecutor. In 2009, she launched the Felony Domestic Violence Unit at the Office of the State Attorney; in 2012, she was promoted to Unit Chief and in May 2020 she was promoted to Deputy Chief Assistant State Attorney.
In 2017, she was appointed to chair the Florida Bar Professional Ethics Committee. She currently serves on the board of directors for the Palm Beach County Chapter of the Florida Association for Women Lawyers and is a member of the Florida Bar Standing Committee on Professionalism, the National Black Prosecutors Association, the Palm Beach County Bar Association's Professionalism Committee. Additionally, Alexcia served two terms as President of the YWCA of Palm Beach County. She is also a member of the City of West Palm Beach Mayor's Task Force for Racial and Ethnic Equality. In 2019, Alexcia received the prestigious Justice Barbara Pariente Award for her commitment to promoting women in the Palm Beach County legal community.
Andie Kramer, Attorney, Author, Founder, Gender Equality Expert
Andie is a partner in an international law firm, which is recognized as one of the "10 Best Big Law Firms for Female Attorneys." Andie is the head of the firm's Financial Products, Trading and Derivatives Group, is the founding chair of the firm's Gender Diversity Committee, and previously served on her firm's Management and Compensation Committees. She co-founded the Women's Leadership and Mentoring Alliance (WLMA) to recruit senior women to mentor and support younger women.
Andie has written hundreds of articles and blog posts on gender biases, is the co-author of the ABA guide, "What You Need to Know About Negotiating Compensation," and is a Forbes contributor. She has also co-authored the books Breaking Through Bias (Second Edition): Communication Techniques for Women to Succeed at Work (September 2020), and It's Not You, It's the Workplace: Women's Conflict at Work at the Bias that Built It (August 2019) with her husband, Al Harris, also a prominent attorney.
Among her many recognitions, Andie was named one of the 50 Most Influential Women Lawyers in America by the National Law Journal. She also received the Founders Award from the Chicago Bar Association, the Women with Vision Award from the Women's Bar Association of Illinois, the Inspiration Award from the Coalition of Women in Law Initiatives, and was named the 2014 Gender Diversity Private Practice Lawyer of the Year by ChambersUSA.